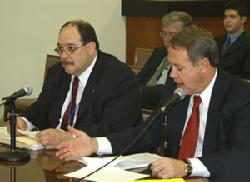 According to a new book-length study by the Economic Policy Institute, students in charter schools, on average, fare no better, and often do worse, on the National Assessment of Educational Progress (NAEP) than do students in traditional public schools. Researchers also found charter schools enroll proportionally fewer low-income students.

The new book, entitled "The Charter School Dust-Up: Examining the evidence on enrollment and achievement", debunks the claim of many charter school supporters who insisted that lower test scores in charter schools were the result of higher enrollment of harder-to-teach minority students. Data show, however, that typical charter school students are not more disadvantaged than their public school counterparts, yet their average achievement is not higher.
In the summer of 2004, the AFT published test results from the federal government's NAEP that showed that average student achievement was higher in regular public schools than in charter schools, both for students overall and for low-income students. The AFT's report also noted that for minority students, a group that many charter schools are specifically designed to serve, average achievement was no better in charter schools than in regular public schools. Advocates of charter schools responded with a storm of criticism claiming that the AFT report was methodologically flawed.
The authors of the new book state that based on numerous studies in eleven states and the District of Columbia there is no evidence that charter schools out-perform regular public schools. In fact, there is evidence that the average impact of charter schools is negative. The authors state in their introduction:
"That charter schools are not substantially more effective, on average, than other public schools calls into question the view that bureaucracy and union contracts are major impediments to school improvement. It seems, based on the evidence, that deregulation and deunionization do not yield any bonanzas of learning, on average. If bonanzas are realized in some places, they are apparently offset by catastrophes in others."
The Economic Policy Institute was founded in 1986 to widen the debate about policies to achieve healthy economic growth, prosperity, and opportunity. The Institute works with a growing network of innovative economists and other social science researchers in universities and research centers in the U.S. and abroad who are willing to go beyond the conventional wisdom in considering strategies for public policy. You may visit their website by clicking here.